Matthew Francis, who pleaded guilty to felony hate crime on September 9 for attacking Benjamin Carver, a DC resident on a visit to New York City, in the bathroom of the Stonewall Inn in October 2010, was sentenced to two years in prison yesterday, the AP reports: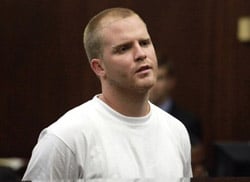 Matthew Francis, 22, didn't speak at his sentencing. He pleaded guilty Sept. 8 to assault as a hate crime and to attempted robbery, but his lawyer said the October 2010 incident at the Stonewall Inn stemmed from drug and alcohol use, not hatred…
…Francis was high on prescription pills and alcohol at the time and hopes to get drug counseling in prison, said his lawyer, Robert DePalma. He said Francis, who has a sister who is a lesbian, doesn't harbor any bias against gays.
"This was an unfortunate incident that arose because of substance abuse," the attorney said. "It was quite a surprise to all of us that it was listed as a hate crime."
In the October 2010 attack, Carver was asked if he was gay and then pinned down by Orlando while Francis beat him, saying, Get away from me faggot. I don't like gay people."
Francis' co-assailant Christopher Orlando is expected to get six months when he is sentenced in January.