The National Organization for Marriage says it will spend $75,000 to help defeat Democratic Assemblyman David Weprin in his race against Republican Bob Turner for Anthony Weiner's seat, City Room reports: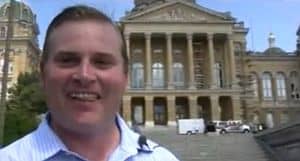 The organization disclosed in a filing with the Federal Election Commission on Tuesday that it spent $26,000 on direct-mail advertising in opposition to Mr. Weprin, who voted in favor of the marriage bill, and $19,000 in support of his Republican opponent, Bob Turner, who opposes same-sex marriage.
Brian S. Brown (pictured), the president of the National Organization for Marriage, said in a telephone interview that the group planned to spend more money, about $30,000, on automated phone calls, additional mailings and get-out-the-vote efforts before the election, scheduled for Tuesday.
"David Weprin made a terrible mistake when he voted for same-sex marriage," Mr. Brown said, "and I think his community is going to hold him accountable."
If you recall, following passage of marriage equality in New York, NOM posted its ridiculous strategy to reverse it.
Laurel Ramseyer at Pam's House Blend made note of how futile the plan is:
Recall that the Assembly passed the Marriage Equality Act by a vote of 80-63 and the Senate passed it by a vote of 33-29. To accomplish this mean-spirited plan, NOM would have to replace at least 18 pro-equality Assembly members and 3 pro-equality Senators (incumbents all) with anti-equality challengers, get a majority of both chambers to approve a proposed amendment, maintain the anti-equality majorities through another election, then get the majority of both chambers to vote anti-equality for a second time.
Then the question would go to the voters, who already overwhelmingly support marriage equality.