President Obama will deliver the keynote address at the Human Rights Campaign's 15th Annual National Dinner on Saturday, October, the organization reports: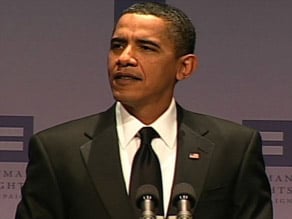 "We are honored to share this night with President Obama who has a tremendous record of accomplishment for LGBT people," said Human Rights Campaign President Joe Solmonese.  "On the heels of the end to 'Don't Ask, Don't Tell,' we look forward to celebrating our victories and redoubling our efforts for the fights that remain ahead."
The event, which is expected to draw nearly 3,000 attendees, will be the evening of Saturday, October 1st at the Washington Convention Center.
HRC endorsed Obama for reelection last May. Obama spoke to HRC's national dinner in 2009 as well.