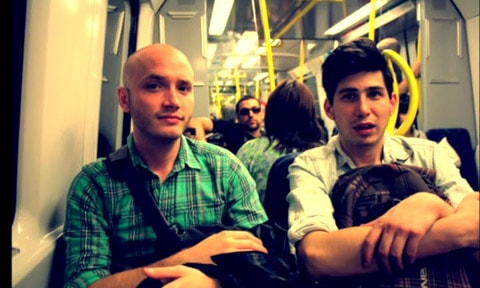 Gregory and a Guillermo are a gay bi-national couple chronicling the immigration challenges they face, in a project called The Other Half of the Orange.
Here's their first video, which deals with a forced separation in Sweden after Guillermo was denied a visa to come back into the U.S.
Writes Gregory: "He'd been approved for an O-1 by the dept of homeland security here in the states, but the next step is to re-enter the country and have this validated. His lawyer advised he go through a western European country (as the embassy in his home country of Colombia has a bad rep for mistreating Colombians) but this was a huge mistake. They look down on that, and he wasn't gven the visa. Had our partnership been validated federally, considering that hetero Americans can secure a visa for their fiances(!), this would not have been as long and painful as it has"
Gregory tells me they plan to marry in NY this fall, though protections will still not be guaranteed until DOMA is repealed.
Watch the sweet video, AFTER THE JUMP…
farväl chapter 1 from the other half of the orange on Vimeo.