A transgender worker for True2You, a candle and incense vendor at Trail's End Farmer's Market in London, Ontario, was disturbing the "family friendly atmosphere" there according to the market's owner and would not be allowed back on the premises.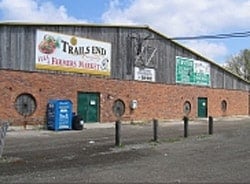 True2You owner Karen Clarke tells AM890 she got a call from one of the market's managers:
"Everything was fine when I left and it wasn't until five to 8 on Saturday night that I got a call from the management at Trails End. Basically they said if I was going to have those people there anymore I'm invited to take my business elsewhere….He said it made everyone uncomfortable and it just wasn't right. This is a family place, a family market and this just isn't right. I just kept insisting what happened that was wrong and he said you walk up to the person and they're dressed like a woman and they've got big hands, a deep voice and tattoos and it's just not right. It's just not a family place he kept repeating that over and over again. And I kept trying to get from him what was wrong, what was so not right, what was it that people were complaining about and there was no details forthcoming that way. He called them 'those people' several times."
Said the market's owner Ed Kikkert: "Why would I be discriminating? I'm not discriminating at all. I'm just asking which washroom would they use? How can you go into a men's washroom dressed as a lady, how can you go into ladies washroom when you're a man. That's the difficulty I have. It's not discriminating at all. The issue is at hand."
A complaint with the Ontario Human Rights Commission has been filed.