Sean Maher, an actor best known for his role as Dr. Simon Tam in Firefly, and now the recently-premiered NBC drama The Playboy Club, tells Entertainment Weekly that like his closeted character on the show, he's gay: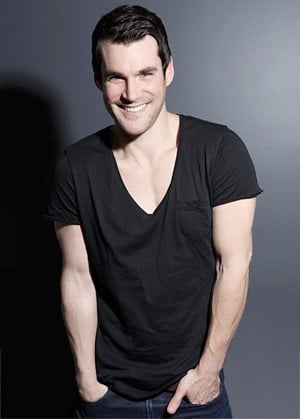 "I've never discussed it publicly…I've never been asked about it publicly, but I would be lying if I said I didn't paint a different picture."
Maher said that when he moved to L.A. in '97 for a short-lived cop role, he was told by the Hollywood machine to stay in the closet:
"I'm 22, I move to L.A., and it's such a cliché, but the day I arrive, publicists from the show took me out to The Ivy for lunch…They're telling me, 'You know, gosh, we'd really appreciate it if you could keep your girlfriend on the side because we want to appeal to the female demographic of the show.' …At that moment, I didn't think to say, 'Oh, I'm gay,' because right before I left New York [where he went to college at NYU], I had my manager tell me: 'You need to get a girl on your arm or people will start talking.' I remember telling him: 'I'm gay.' He had no idea. And he said: 'All the more reason to get a girl on your arm.' My agent was also like, 'It's best if you keep your options open. Maybe bisexual?'"
Maher admits that the decision was ultimately his:
"It was so exhausting, and I was so miserable. I didn't really have any life other than work and this façade I was putting on. So I kept my friends from college [where he was out] separate from my work friends, and that was very confusing. I just kept going on and on painting this picture of somebody I wasn't. I didn't have time for a personal relationship anyway. And you just don't realize that it's eating away at your soul."
And Maher's role in The Playboy Club, as a closeted husband, is not coincidental:
Maher decided to use his role on NBC's The Playboy Club — a character coincidentally also named Sean, a closeted man who's married to lesbian Playboy Bunny Alice (Leah Renee Cudmore) – to finally engage in a dialogue about how being closeted has strained his life in Hollywood. "I was working on other stuff, and then this role came up, which was like a light bulb going off," Maher remembers. "I was like, This is perfect. I want to do this, and I want to use it as a platform to come out."
As viewers saw in the premiere episode on Sept. 19, his character is involved with launching the Chicago chapter of the Mattachine Society, an underground gay-rights group from the '50s and '60s.
If I get my hands on the clip (I saw it last night), I'll post it.
Read the much-longer interview with Maher at Entertainment Weekly.