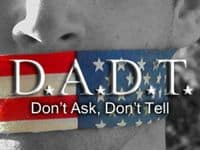 Don't Ask, Don't Tell ends on Tuesday. And with it goes years of gay and lesbian soldiers communicating with their civilian partners in code. The AP has a long report on their plight and happier, though still-uncertain future: 
After 19 years hiding her relationship with an active-duty Army captain, Cathy Cooper is getting ready to exhale.

On Tuesday, the policy known as "don't ask, don't tell" will expire. And Cooper will dare speak her love's name in public.

"This is life-changing," said Cooper, choking up. "I just want to be able to breathe — knowing I can call my partner at work and have a conversation without it having to be in code."
When the end comes on Tuesday, expect parties (apparently none of them official): 
Night-long celebrations will mark the final countdown to the historic end of the U.S. military's ban on openly gay troops, and even more partying will take place once it is lifted Tuesday. But in many ways change is already here…

Several have come out to their peers and commanders.

A few have since placed photographs of their same-sex partners on their desks and attended military barbecues and softball games with their significant others. In San Diego, about 200 active-duty personnel — both gay and heterosexual — made up the nation's first military contingency to participate in a Gay Pride march this summer, carrying banners identifying their branches of service. An Army soldier had tears, saying she was touched by the thousands cheering them on, after hiding her identity for so long.

"We're Gay. Get Over it," stated the cover page of the Marine Corps Times distributed to bases worldwide a week ahead of Tuesday's repeal.