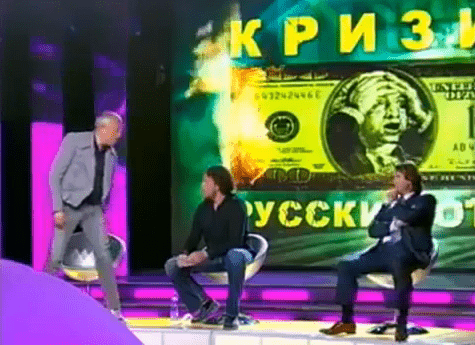 During a panel on the economic crisis, billionaire Alexander Lebedev punched out ex-billionaire Sergei Polonsky – who once said that all non-billionaires are losers – "sending the property developer flying across the studio." All while a giant graphic of a U.S. hundred-dollar bill burned in the background. 
The fight developed like a scene on Maury: 
Polonsky, himself a one-time billionaire who lost part of his fortune during the economic crisis, goaded Lebedev on the pre-recorded show, announcing that he would rather punch someone than discuss financial issues with oligarchs.

"Do you want to try it out?" Polonsky said.

Within seconds Lebedev, who owns British newspapers including The Evening Standard and The Independent, jumped up and punched Polonsky three times in the face, throwing Polonsky off his metal stool and sliding alongside the stage.
Watch, AFTER THE JUMP.