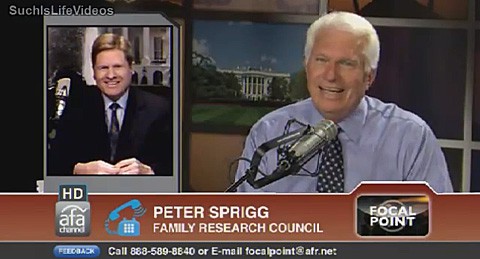 Two of the nation's top hate group leaders, Peter Sprigg of the Family Research Council, and Bryan Fischer of the American Family Association, had a chat yesterday regarding their singular obsession: gays.
Yesterday's discussion was meant to bolster their theory that being gay is not a choice.
Said Fischer: "It's really kind of a view of human beings of nothing more than animals who are sort of in the grip of this uncontrollable lust and heat, have no control over it, and we have a much more noble view of humanity because we believe men and women have been created in the image of God and therefore are morally responsible people, they have free agency, they can make sexually responsible choices."
Watch, AFTER THE JUMP…
As Jeremy Hooper notes:
The Family Research Council's Peter Sprigg is on record saying he'd "prefer to export gays from the United States" and that he'd like homosexuality to be criminalized.
The American Family Association's Bryan Fischer recently said "there is no reason why [homosexual activity] cannot be a criminal offense once again, absolutely none," adding to his years of comments that have crudely slighted LGBT people (and others) in every way humanly possible (see bottom of this post for roundup).
So it's only fitting that these two proponents of gay criminalization would team up to reduce science and scientific opinion in a way befitting their unified "gays can and should change" agenda.