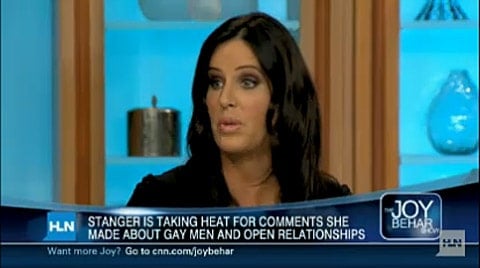 After issuing an apology, Millionaire Matchmaker Patti Stanger appeared on Joy Behar's show last night to do damage control over what she said about gay men on Watch What Happens Live.
Unfortunately, she pretty much doubled-down on those remarks.
Watch, AFTER THE JUMP…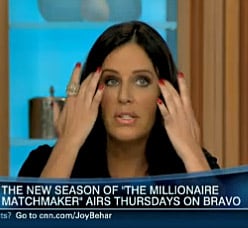 Stanger says that people missed the point on WWHL, that she was offering advice on an L.A.-specific gay relationship.
"Whether you're straight or gay, that's player town. Did I say all gays? I said the gays in Los Angeles."
Stanger then tried to explain her advocacy work on behalf of gay men:
"For five years I have put gay dating on the map. Nobody ever did this. There was no LOGO then. And I did the NoH8 campaign, I was an advocate for gay marriage, I stood up there for my gay friends. I've got more gay friends than Carter has pills."
She then negates her L.A.-specific excuse by asserting that gays "all around the country" are shallow, sex-first, relationship-later individuals, and then insults the gay community on marriage.
Says Stanger to Behar (my transcript):
"In the show when we do the mixers, the guys are passing around the telephone numbers, they're sleeping with each other, even affter the millionaire gets the date he's sleeping with the pool of people. My (gay) friend…says 'Patti this is what it's like around the country.' This is the gay community. I said, 'I'm trying to curb them.' Now this is not the lesbian. The lesbian gets involved. They move in together. They're quiet. They're at peace. But the gay men. They whip it out at eyelock. They get involved, and then they find out later whether or not they want a serious relationship. And I hope they use the privilege in New York of gay marriage, because now they have it. And a lot of gays aren't getting married, even though they have the privilege."
Watch, AFTER THE JUMP…
Stanger and Bravo both released apologies earlier in the day.
Said Stanger: "I am so sorry. I did not mean to offend anyone with my comments last night on Watch What Happens Live."
Said Bravo: "Bravo regrets the comments expressed by Patti Stanger on Watch What Happens Live last night. Her comments are not representative of the network's beliefs and opinions. We apologize for the offense it caused."