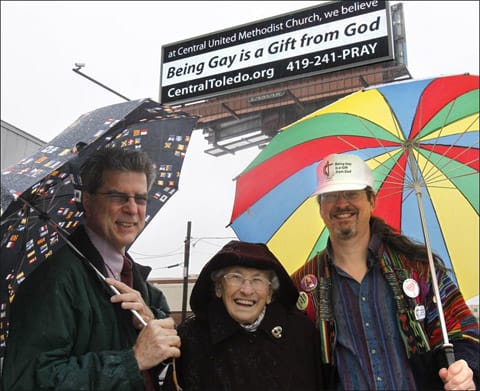 (image toledo blade)
Back in April I posted about Central United Methodist church in Toledo, Ohio which had funded a billboard (above) reading "Being Gay is Gift from God."
A local pastor has now responded to the billboards, by putting up nine of his own, The Blade reports:
Rev. Tony Scott of the Church on Strayer felt compelled to offer an opposing point of view.
The Maumee megachurch this week bought nine billboards that proclaim, "Being Gay is NOT a Gift from God — Forgiveness, Love, and Eternal Life Are."
"I love everyone. There's nothing on that billboard about hate," Mr. Scott said in an interview. "I'm getting hate mail from lesbian and gay people, but my point is that I love them too much to let someone believe a lie. I love this city too much to let a lie be sown."
Scott's billboard, below.