The Conlons have been at odds for decades due to a troubled family history that the movie doles out patiently and with reasonably strong acting. There's a compellingly sad undertow to this since all three men want someone they love back in their lives and the person they want — be it son, brother or mother — doesn't want them back or is lost to them forever. Familiar and predictable as the film's final fighting tournament is (the trailer doesn't even bother pretending that the brothers won't be the finalists) it's also aided considerably by good actors in each corner and a subplot in which Brendan, a teacher, runs into trouble with the schoolboard, that has room for a couple really good quips to lighten the mood.
In the end, though, it's one of those films that's all about the last 9 minutes. This has the curious affect of making the finale feel exceedingly rushed since it's all anyone has focused on, talked about, or dreamt of for the previous 130 minutes. This contradiction is especially unfortunate for Nick Nolte, who might have even had a Best Supporting Actor type role here, if his entire arc hadn't been so truncated so as to move him aside to watch his son's slug it out one last time with the inspirational underscore thundering about signifying …The End.
ALSO OPENING:

Steven Soderbergh's CONTAGION offers up an A list cast to die for (Gwyneth Paltrow, Jude Law, Kate Winslet, Marion Cotillard, Laurence Fishburne, Matt Damon) and a killer virus that would like them to do just that.  It remains to be seen whether audiences will find the eerily plausible epidemic thriller cathartic and exciting or something to avoid at all costs due to the "eerily plausible" part.
BONUS SCENES:

Speaking of Kate Winslet… she continues to be her adorable saucy self recently chatting up sex scenes with a reporter. Quoth she:
"It's a profoundly bizarre thing to do… Dear Mum, at work today I had so-and-so's left nut sack pressed against my cheek."
Have you been following the news coming out of Film Festival season? This week always gets pundits talking Oscar. We've seen four possible Best Picture contenders already but most are yet to come. The Toronto International Film Festival (also known affectionally as TIFF) kicks off tonight with a documentary about U2. Telluride has already wrapped giving considerable Oscar boosts to Glenn Close for her period drag drama ALBERT NOBBS and George Clooney who was feted and fawned over for his new film THE DESCENDANTS (from the writer/director of Sideways). Meanwhile across the Ocean, the Venice Film Festival concludes this weekend after hosting several luminaries and famously gawking at Madonna. Not all of that gawking was kind; the critics had daggers for eyes when it came to Madge. One film that's expected to win big when the Venice jury awards their prizes this weekend is SHAME, from Steve McQueen, the director of the masterful and little seen British prison drama Hunger.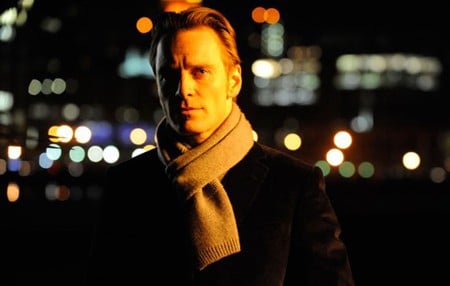 The new film stars Michael Fassbender (♥) as a sex addict in New York City who wanders from encounter to encounter until an unexpected visit from his sister (Carey Mulligan) interrupts his life. It's too early to tell whether the film's subject matter and copious nudity (both stars go full frontal) will prevent any Oscar traction from taking hold, but the reviews are orgasmic. A friend of mine, lucky enough to be in Venice, called it a masterpiece.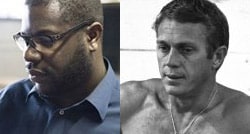 For

what it's worth the aforementioned Steve McQueen (far left) is a British film director (and, if his first two features are any indication, a genius) and should not be confused with Steve McQueen (left), the late hunky movie star, who also got some internet shout outs today, albeit it in NSFW fashion. 

Also in Oscar-speculation news The Kennedy Center Honors choice of Meryl Streep for their annual December party will obviously help her Oscar bid as Margaret Thatcher in The Iron Lady. But there are a lot of celebrities aiming for "lifetime achievement" style honors this year (including Streep's 80s rival Glenn Close. Who will prevail?

Finally, to end on a sillier note: Have you seen this hilarious gay riff on "Beauty & The Beast". Bonjour, Girl!