Real Housewives of D.C. husband Tareq Salahi, known best for crashing a State dinner at the White House with his wife Michaele, claims she has been kidnapped, TMZ reports: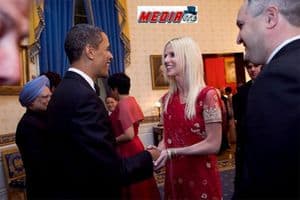 Tareq claims he got a phone call from Michaele late last night … from an unfamiliar Oregon cell phone number … and she told him she was going to her mother's house, located minutes away from the Salahi home. 
Tareq says he was suspicious — so he called Michaele's mother … who told him she hadn't spoken with Michaele and was unaware of her plans.  That's when Tareq — fearing Michaele had been abducted — called the Warren County Sheriff's Dept. for help.
But Tareq claims deputies told him she had already called them — informing them she was OK and just dealing with some "family issues." Tareq tells TMZ … he believes Michaele had been FORCED to make the phone calls by her abductor … and believes she is in very real danger … especially because the Salahis have received death threats in the past.
UPDATE: Michaele Salahi is apparently alive and well and screwing Neil Schon, the guitarist from Journey.