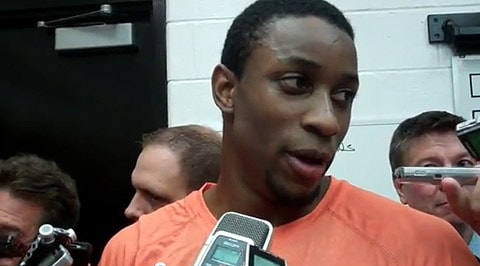 Last night I posted a clip of Philadelphia Flyer Wayne Simmonds calling New York Ranger Sean Avery a "f**king faggot" during their preseason game.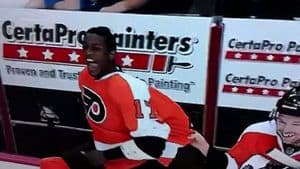 Avery was aware the slur had been made, the AP reports:
Avery and Simmonds were at odds in the first period, and television cameras caught Simmonds jawing at Avery, appearing to utter the slur. When Avery was asked by reporters after the game if Simmonds called him "what we think he called you," he answered: "Yeah, yeah."
Avery added:" I mean Kobe got fined 100 grand. Everything is different now. You know, it's an issue. It is an issue that people are dealing with and trying to overcome. And I guess ten years ago, maybe it was not such an issue. But it is such an issue politically with people in the game and just in life in general."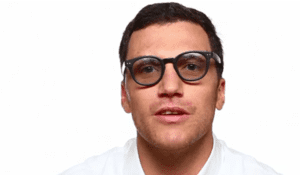 When asked if he thought the slur was related to a video he made in support of same-sex marriage last May, Avery said, "I mean, it has been said. It has been said for years. Whether I thought about it in that sense, I don't know." (video)
He declined to say whether he thought the NHL should take a stand: "That's something that I'm not really going to comment on. First of all, me commenting on things like that, the backlash that I could receive is unknown and I don't want to put the team in a situation where they would have to deal with something because of me wanting to see something happen. So, I'm not going to get into it."
Simmonds was asked about what he said in the locker room and said it was a response to a sucker punch from Avery and "emotions were on high"
When asked about the slur, Simmonds said, "Honestly, we were going back and forth for awhile there and I don't recall every single thing I said to him, but he said some things I didn't like and I said some things he didn't like. But, I can't recall every single word I said…Well we were going back and forth battling the whole time. He definitely said some things to me that I wasn't too happy about. That's the way it is…I don't know. I can't recall every single word that he said. I'm not here to say that or he said this. I'm not going to rat him out. It doesn't really matter to me. It's in the heat of a hockey game, that's what it is."
In fining Kobe Bryant for the same slur, NBA Commissioner David Stern said, "Kobe Bryant's comment during last night's game was offensive and inexcusable. While I'm fully aware that basketball is an emotional game, such a distasteful term should never be tolerated. Accordingly, I have fined Kobe $100,000. Kobe and everyone associated with the NBA know that insensitive or derogatory comments are not acceptable and have no place in our game or society."
Will NHL Commissioner Gary Bettman feel the same way?
Watch Simmonds interview and the slur video, AFTER THE JUMP…
Here's the clip, According to commenters on a hockey board, it was audible on one broadcast: