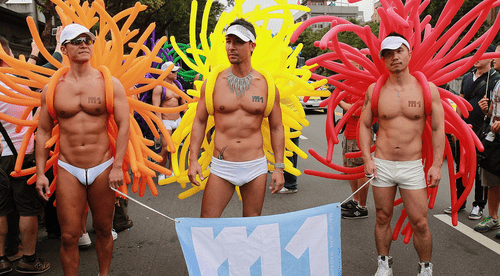 In Taipei, according to WashPo:
Thousands of gay rights supporters have marched through Taiwan's capital, calling for increased tolerance and the enactment of anti-discrimination legislation.

The Saturday event is the ninth annual gay rights parade in Taipei, which has one of Asia's most vibrant gay communities.

The parade has attracted gays from around the world, with many marchers dressing up as prom queens, zombies or sumo wrestlers.
The AFP says as many as 50,000 marchers marched:
"We have an even bigger crowd this year particularly after a number of incidents showing that discrimination against the gay community is still serious," said organiser Hiro Liu.

Among them was a much-publicised medical dispute involving five patients receiving organs from an HIV positive donor, who was homosexual, due to a hospital's mistake.

The incident led to some suggestions that homosexuals should be banned from donating blood and organs, which drew heated criticism from gay rights groups.

Gay groups were also offended when a senior politician demanded opposition presidential candidate Tsai Ing-wen to disclose her sexual orientation, as it will "affect her judgment call as a president," he said.