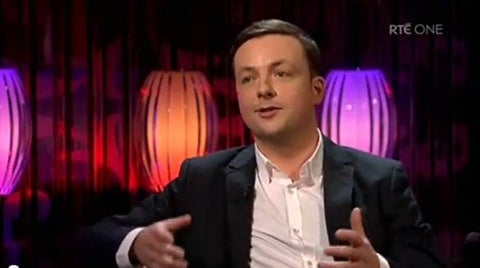 Oliver Callan, an Irish radio-turned TV satirist best known for the radio show Nob Nation, appeared on Ireland's The Staruday Night Show to respond to a newspaper columnist who accused sketches he did of David Norris and GAA star Paul Galvin as being homophobic, but Callan the whole interview on its head by coming out.
Callan received a huge round of applause from the audience.
Said Callan: "This column was intended to reveal to the world that I'm a hate-filled homophobe out to get the gays. Let's get one thing straight, I'm not homophobic, I'm gay."
He added: "I've been called a fag, a daisy, a fairy, a pansy, a queer, all of that down through the years. I'm from a very small part of Co Monaghan and coming out probably made me literally the only gay in the village. Obviously everybody says you're born that way, but in all honesty when I was 11 or 12 I just knew I was different. I felt like a Protestant on the Falls and I knew I was different to my older brother who started driving the tractor when he was eight. I'm not singing I'm gay and proud. I'm saying I'm gay and I don't give a s**t and neither should anyone else."
Watch the interview, AFTER THE JUMP…