At last night's ceremony for the Q Awards, Coldplay's Chris Martin says that in the 90's UK boyband Take That made him wonder if he way gay: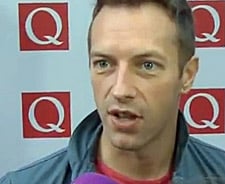 The Coldplay front man joked that Take That made him question his sexuality when he was growing up. Chris told the celebrity-packed audience at The Q Awards yesterday that he had two favourite bands when he was a kid, "U2 and five handsome, strapping men from Stoke and Manchester. I'm not afraid to admit it, they made me ask the question 'Am I gay?'"
Chris was at the event to not only pick up a gong for Coldplay's Best Act In The World Today win, but to also present Gary Barlow with his award for Classic Songwriter, and the Take That star was shocked to receive his little golden Q trophy.
Watch Barlow (above, right) in an interview at last night's awards, AFTER THE JUMP…