Former Botswana President Festus Mogae told the BBC that his country should decriminalize homosexuality: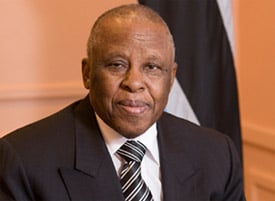 Mr Mogae, who heads the Botswana government-backed Aids Council, said it was difficult to promote safe sex when the two practices were illegal. He also called for condoms to be distributed in prisons. His views are controversial as many conservative Batswana frown upon homosexuality and prostitution.
Said Mogae: "I don't understand it [homosexuality]. I am a heterosexual. I look at women. I don't look at other men. But there are men who look at other men. These are citizens."
Mogae said sex workers should be left alone: "To protect them and their clients from being infected, you have to assist them to protect themselves. I don't think by arresting them you help them…If people can go to prison HIV negative and come out of it HIV positive, it means that prisons, whatever the law says, are one of the sources of infection."