A participant in MTV's reality show True Life has been expelled from a Baptist nursing school after officials discovered she is transgender: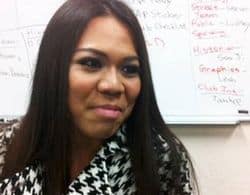 Domaine Javier, 24, said university officials told her she was expelled for falsely claiming on her application form that she is a female. Javier revealed on MTV's "True Life" that she is biologically male. Letters the university sent to Javier say she was expelled for "committing or attempting to engage in fraud, or concealing identity," and for presenting false or misleading information in university judicial processes.
Javier, 24, said she has identified herself as female since she was a toddler and correctly clicked the space next to "female" on the online application form.
California schools cannot discriminate on the basis of gender identity, unless they are private, as is the case with Cal Baptist.
"I didn't know they were that extreme," said Javier.