A group of students, mostly male athletes, walked out of a Hartford High School production of Zanna Don't after a gay kiss made them uncomfortable, CBS Connecticut reports: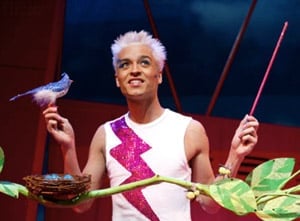 Zanna Don't!" depicts life at the fictitious Heartsville High, where students with academically-charged interests sit atop the popularity echelon while football players are the outcasts, and heterosexuals must conceal their sexual preference to avoid public scrutiny.
During the show, two men in the cast share a brief kiss — a lip lock that became a great point of contention.
"There was a public walkout by a bunch of students (when the kiss happened) … mostly male," [Adam Johnson, principal of the Government and Law Academy] said. "It was visually evident (due to the jerseys the team was wearing) that a lot of football players got up and walked out. It was almost a symbolic kind of thing."
The school reportedly told parents in advance of the gay content in the play, which was planned to coincide with GLAAD's Spirit Day, taking place tomorrow. The announcement prompted a visit from "a Bible-wielding parent" and lots of phone calls.
Organizers hoped to draw attention to tolerance, and I guess they have.
The production was produced by a joint effort between a task force created by Leadership Greater Hartford's Quest program and True Colors. It was one of 16 projects available for the taking by task forces involved in Quest, participant Louise Provenzano explained.
"Our specific task force voted for this project because we believe in it, especially in light of national and local stories about LGBTQ issues and bullying."