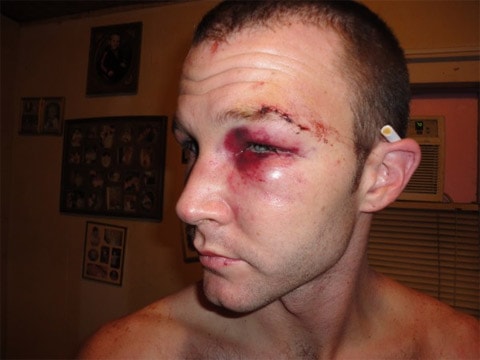 The Dallas Voice has the details of a hideous hate crime that happened on Sunday, in Reno, Texas: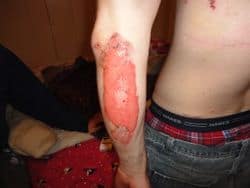 Burke Burnett said he was at a private party at about 1 a.m. when four men suddenly attacked him, stabbing him at least twice with a broken beer bottle before throwing him onto a fire. His attackers yelled things like "pussy-ass faggot," "gay bitch" and "c*ck-sucking punk," Burnett said.
Burnett said it took 30 stitches to close stab wounds to his back and forearm, as well as a cut above his left eye. He also sustained second-degree burns and severe bruises.
"They knew I was gay," Burnett said Monday. "I'm convinced they were trying to kill me."
Jeff Sugg, interim chief of the Reno Police Department, released a statement Monday afternoon saying: "The Reno Police Department is currently investigating an aggravated assault that took place last weekend. The investigation is ongoing and additional information will be provided when available."
Burnett says he knows his attackers and was heckled at the party before the assailants began throwing punches. He is staying with a friend and says he's scared to go home, and scared it will "get brushed under the rug" in his small conservative town.
Many more details at the link below.
Gay man stabbed, thrown onto fire in hate crime in Reno, TX [dallas voice]