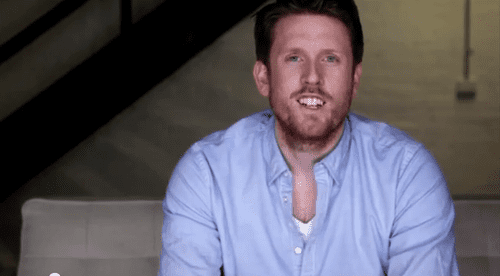 Watch this video, AFTER THE JUMP, in which (the rather good looking) Australian ex-hockey star Gus Johnston speaks at length about coming out, failing to come out, and the culture of machisimo in the sporting world.
Johnston released his 12-minute vid last month, and it's just now getting some attention from the the Sydney Morning Herald, in writer Nicole Brady's excellent feature on LGBT people in Australian sport. Brady writes:
By coming out, Johnston joins an exclusive club of elite Australian athletes. In our sports-obsessed nation, in which it is estimated 10 per cent of the population is homosexual, it is telling that only three other elite male athletes have come out: Olympic diver Matthew Mitcham, Olympic swimmer Daniel Kowalski and rugby league player Ian Roberts.
For lesbians the landscape is even more sparse. Of Australian women who have played sport at an elite level, only former Olympic cyclist Michelle Ferris has publicly talked about being gay.
… Sport is the last bastion of public life in Australia in which same-sex attraction is kept under wraps. The last closet in which it is safer to stay silent than speak up. Elite Australian athletes who are gay or lesbian mostly play it straight.
Johnston's video seems to have been recorded off-the-cuff, but in it he's astoundingly erudite. He plainly feels broken up about not coming out before his retirement from hockey last year. Says Johnston:
For twenty years, I worked extremely hard to become the best hockey player I possibly could — but also to be the best man I could be … So I fought and worked very hard to build a reputation that would provide a role model for others. [But] I never once stood up to anyone who spoke about someone behind their backs — talking about someone who they thought was a lesbian or talking about them in a joking way … I never stood up to my teammates … So I'm complicit.
Johnston speaks movingly about his love of hockey, and the seemingly irresolvable tension between his devotion to his sport and growing sense of himself as a gay man. Seeming to choke back tears, he says:
It never crossed my mind — it was never an option in my mind that I would ever leave the sport. But when you're 25 and you're afraid and you're lonely, and you don't have anyone to talk to, and you feel like there's no escape from that … then, it's not something tht I'm proud of, but for a long time, there would barely be a week that would go by when I didn't contemplate taking my own life.
Johnston included his email address at the end of his video, and according to the Herald, received many hundreds of notes congratulating him on his fortitude in posting his video.
Watch the video, AFTER THE JUMP…