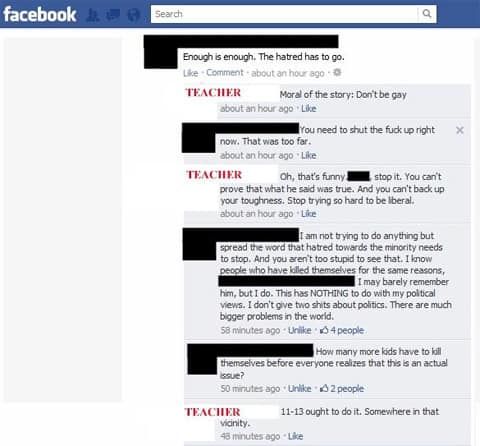 Yet another teacher is under fire for anti-gay remarks made on Facebook.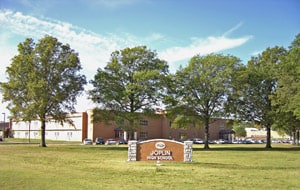 Jim Whitney, a teacher at Joplin High School in Missouri responded to former student Josh Gonzalez, who posted a Facebook link to a news article 15-year-old Jamie Hubley, who committed suicide after being bullied.
Said Whitney: "Moral of the story: Don't be gay."
When another commenter asked, "How many more kids have to kill themselves before everyone realizes that this is an actual issue?," Whitney responded, "11-13 ought to do it. Somewhere in that vicinity."
The comments were posted by Missourians for Marriage Equality on the group's Facebook page, where they encouraged people to contact the Joplin school board.
The Joplin Globe reports:
Whitney did not respond to requests for an interview but released a statement via email on Monday afternoon saying he was sorry the incident occurred.
"I do not condone bullying or harassment of any kind and I am very aware and saddened by the negative impact this type of behavior creates. I regret that the posts appeared on Facebook. They do not reflect my personal views and I apologize for any and all offenses caused by the comment."
Whitney, however, did not respond to follow-up emails and telephone calls to explain how comments that do not reflect his views came from his Facebook account, nor has he been available for additional questions.
Board President Ashley Micklethwaite said the school board would likely discuss the remarks at a meeting yesterday.