The Star Ledger reports that a parent in Union Township, New Jersey has called for a teacher's dismissal after the teacher, Viki Knox, posted remarks on her Facebook site attacking a school display recognizing Lesbian Gay Bisexual and Transgender History Month and calling homosexuality "perverted".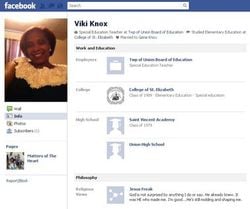 Wrote Knox in some of her comments:
"Homosexuality is a perverted spirit that has existed from the beginning of creation. The word of God refers to it often. That's if you believe the Word to be truly God's intended blueprint for his people. I have friends and loved ones who are practicing/ living as homosexuals. Yes I love can care about them. We hug and exchange gifts. We have family dinners. But how they live and their actions, behaviors -CHOICES are against the nature and character of God! Do I tell me so? Yes, of course. Do I treat them bad? If course not! Jesus never did that to ANYONE he meant. He spoke to them of their situation and offered them life eternal. He didn't say it was okay but we've all sinned and come short if God's will for us daily. That's why we Christians true followers pray, repent, and spend time with Christ daily. The Word of God instructs us to die daily to our flesh-meaning our will. What we want; what feels good to us; what we like; what we can rationalize and justify. I do not pretend to know ALL things. Nor do I pretend not to have biases, failings and faults. But I know sin and it breeds like cancer!"
Read a PDF of the Facebook thread, AFTER THE JUMP…
"Hateful public comments from a teacher cannot be tolerated," wrote Paragano, also a former Union Township Municipal Court judge. "She has a right to say it. But she does not have a right to keep her job after saying it."
Union Chief School Administrator Patrick Martin said the district is investigating the incident.
Knox, 49, of Union Township, is also the faculty adviser to the high school's student prayer group, The Seekers Fellowship, the local chapter of a nationwide organization.
Knox did not respond to requests for comment. But two other people who wrote comments on the thread said Paragano's copy was authentic.
Read a PDF of the Facebook thread, AFTER THE JUMP…
The case bears a striking resemblance to that of Florida teacher Jerry Buell, who was suspended last month for anti-gay Facebook comments (and later teamed up with NOM). As they did for Buell, the ACLU is defending Knox, according to Gothamist:
Knox has yet to comment, but the American Civil Liberties Union of New Jersey released a statement defending Knox's First Amendment right to make the comments: "Although we do not agree with the sentiments expressed on Ms. Knox's personal Facebook page, her comments are protected by the First Amendment," said representative Ed Barocas.
PDF via Garden State Equality.