After intervention by Senator Jean Shaheen, a gay Guardsman will now be able to bring her spouse to an official National Guard reintegration event for soldiers returning from deployment. Chief Warrant Officer Charlie Morgan of Rye, New Hampshire was barred from bringing her wife to the event because of rules under DOMA, the Union Leader reports: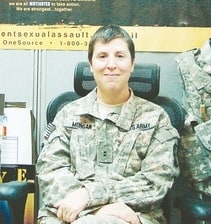 In recent weeks, Shaheen's office raised concerns on behalf of Morgan with local Guard officials, who said they were hamstrung by federal regulations. Shaheen on Tuesday sent a letter to U.S. Defense Secretary Leon Panetta asking him to get involved.
"I think it's terrific that it's turned out positively," Shaheen said Wednesday. "I think it's another step along the way to make sure everybody is treated fairly and equally."
Following the repeal of 'DADT' many equality issues still need to be sorted out for gay and lesbian service members:
Shaheen said the Guard was able to reverse its ruling because of language that allows Guard members to bring any one person of their choosing, regardless of relationship, to a yellow ribbon event.
"The fact is, she shouldn't have needed a special waiver and shouldn't have needed to raise this issue in the first place," Shaheen said. "We need to repeal the Defense of Marriage Act in order to address all of the issue to make sure everybody is treated fairly."