The Servicemembers Legal Defense Network is set to file a federal lawsuit arguing that the federal Defense of Marriage Act violates the Fifth Amendment right to due process, and challenging the consitutionality of federal laws that make married same-sex couples ineligible for the same benefits as their straight counterparts, reports Andrea Stone at the HuffPost: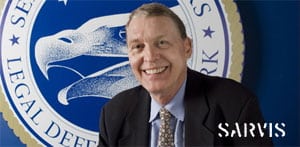 Sarvis, who spoke about his group's plans at the OutServe Armed Forces Leadership summit here over the weekend, said the case would be brought by several currently serving members of the military who were married in the seven jurisdictions where same-sex marriages are legal. He declined to identify the plaintiffs.
"We're looking at all the legal remedies available," Sarvis said, noting that the group also is working to change Title 10 of the U.S. Code, which governs the armed forces and defines marriage as between two individuals of the opposite sex.
Last week, an 18-year Navy veteran made public a case in which she is requesting benefits for her wife. The case is directed at Veterans Affairs "and does not touch upon the compensation of active-duty service members," Stone notes.
The Senate Judiciary last week announced plans to vote on the repeal of DOMA in November.