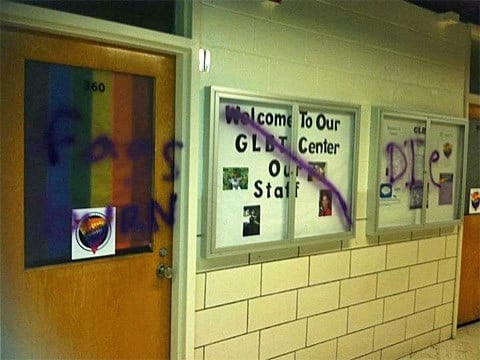 The GLBT Center in Harrelson Hall at North Carolina State University in Raleigh was vandalized Monday night with graffiti painted over its doors and showcase reading "fags burn" and "die", the Technician Online reports:
Sergeant Jeff Sutton of Campus Police said the vandalism occurred in a span of about 25 minutes, some time between 8:30 and 9 p.m. "We do not have any suspects at this time. We're going to try to look at some camera footage going into Harrelson Hall during that time frame," Sutton said.
Adam Ward, a graduate student in comparative biomedical sciences, is a graduate adviser for the GLBT Center. "No one was able to see who sprayed-painted this, but believe me, there will be a University response. We will continue working with University Police, and I thank all of our community members and allies for standing up for equality and what's right," Ward said in a Facebook post.
The graffiti is being investigated as a "hate incident".