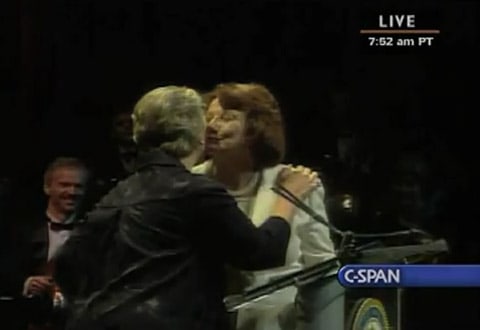 Dave Welch, Executive Director of the Houston Area Pastor Council, who has been after out lesbian Houston mayor Annise Parker since she was running for office in 2009, is targeting Parker again with an ad that tries to prove, as the Dallas Voice notes, that she "has engaged in an insidious plot" to advance the LGBT agenda. He's encouraging area pastors to play the video at their churches.
See, she's kissing her partner of 20+ years Cathy Parker on the cheek!
The paper adds: "Early voting in the Houston mayoral race started Monday. Early numbers show historically low voter turnout with only 2,557 people voting in person. That's down almost half from the 4,089 people who voted on the first day of early voting in 2009 when Parker was first elected."
Watch Dave Welch's attack video, AFTER THE JUMP…