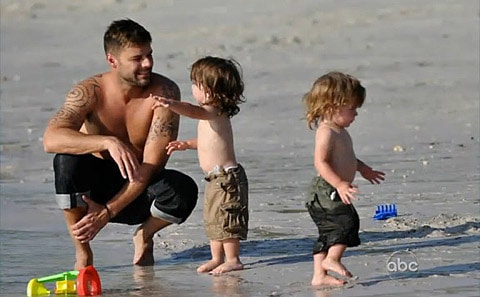 Catholic and Evangelical leaders in Honduras say that they have asked the governement to bar entry to Ricky Martin because he's a gay dad, FOX News Latino reports:
The pop star, who is set to perform in the country on Oct. 16 in the Chochi Sosa stadium in Tegucigalpa, Honduras as part of his Música + Alma + Sexo (MAS) tour, has church leaders scrambling to halt his entrance, reports the Honduran daily El Heraldo.
The Minister of Interior of Honduras, Áfrico Madrid, claims that Evangelical and Catholic leaders have solicited that he deny a visa to Martin in order to "protect the moral and ethical principles of our society."
Madrid claims that the religious leaders particularly object to Martin's non-traditional family. "His nuclear family is not the type of family that Honduran society, and laws, approve of."
The Honduran Secretary of State tells daily newspaper El Heraldo that it has not received an official petition from religious leaders.