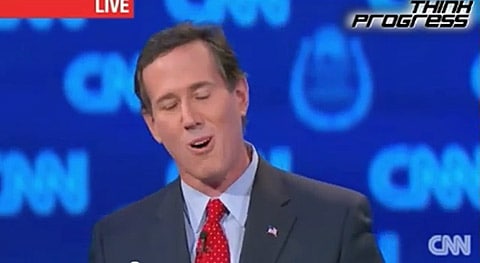 While LGBT people were not mentioned by name in last night's debate, Think Progress LGBT makes note of a moment in which Rick Santorum took square aim at LGBTs while answering a question "about how the Republican party would reconcile its anti-immigration policies and appeal to Latino voters."
Santorum's suggestion was to turn Hispanics against gay people using religion:
(my transcript) "The Latino community understands that. They understand the importance of faith and marriage. They understand that bond that builds that solid foundation and that inculcation of faith and religious freedom, and I think the Latino community knows that's at stake in this country. There's a lot going on right now that's eroding our religious freedom, that's eroding the traditional values of marriage and family and there's one cnadidate up here who consistently sounds that theme…Look I'm for jobs too, but we keep running sough-shod over the fact that the family in America and faith in America is being crushed by the courts and by our government and someone has to stand up and fight for those insitutions."
Watch, AFTER THE JUMP…