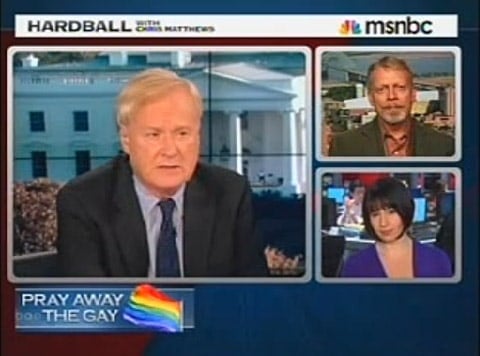 Last week I posted about former Exodus International leader John Smid, his acknowledgement that he is gay, and his remarks that homosexuality is unchangeable: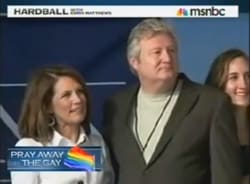 "One cannot repent of something that is unchangeable. I have gone through a tremendous amount of grief over the many years that I spoke of change, repentance, reorientation and such, when, barring some kind of miracle, none of this can occur with homosexuality."
Smid took his story to Chris Matthews last night and talked about "ex-gay" thera[y, the Bachmann clinic, and Marcus Bachmann's statements about "barbarians [needing] to be disciplined".
Said Smid: "I think that's horrific and an amazing denial of human experience."
Smid and Michelle Goldberg from the Daily Beast then go on to discuss why GOP candidates glom on to the "gay is a choice" meme.
Watch, AFTER THE JUMP…