As Andrew mentioned on Friday, authorities banned this weekend's planned Gay Pride parade in Belgrade, Serbia over security threats and danger to marchers and police from nationalists and ultra right-wing extremists.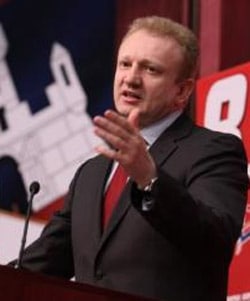 The AP reports that arrests were made on Sunday:
Serbia's police say they have detained six people and prevented a gathering of a pro-Russian far-right group that threatened to burn an EU flag and spit on the portrait of the U.S. ambassador in Belgrade….
…Senior police official Srdjan Grekulovic says the six extremists were detained in central Belgrade with masks and baseball bats on them. He says police also prevented a protest on nearby Mount Avala by the Nasi group — an affiliate of a Russian organization of the same name.
And on Sunday night, Belgrade Mayor Dragan Đilas spoke out against the Parade, saying it sparked an increase in xenophobia:
"It allegedly aims at showing differences and waking up tolerance, but it always causes the opposite. Xenophobia has increased in Serbia after last year's parade. If you are a homosexual, that's your right and nobody should harass you because of it, but you won't gain anything with a walk."
Activists are unhappy with the Parade's cancelation:
Pride Parade Organizing Committee member Goran Miletić said he believed there were threats but that police could have dealt with them. He stressed that the main problems of the LGBT community were violence, discrimination and their invisibility in the society.