Danny Hawkins, a Spokane, Washinton man, enlisted the local gay rights group Out Spokane over the weekend in taking the claims that an attack on him was bias-related to the media, KXLY reports: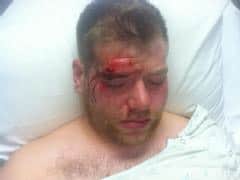 Hawkins said at a news conference Saturday afternoon at the LGBT center in North Spokane that he was attacked as he left Dempsey's Brass Rail around one a.m. because he touched a man's car. Hawkins explains he put his hand on the hood of the car, thinking that the driver was unaware he was there and was in danger of being struck by the vehicle. Hawkins says this was a hate crime because the man who beat him up was yelling gay slurs.
Police don't buy Hawkins' story:
Sergeant Tom Lee, who was not the responding officer but spoke to the officer who was there and read through the report, says there is nothing to indicate Hawkins was beat up because of his sexual orientation. The officers on scene noted Hawkins banged on the hood of the man's car and didn't simply just touch it. They also noted in the report that there were no witnesses to the crime to corroborate Hawkins' story that the man who beat him up was yelling gay slurs. Lee says Hawkins was also extremely intoxicated, and wasn't able to give the responding officer his own address or birthday.
Watch KXLY's report, AFTER THE JUMP...