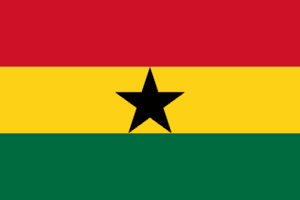 Three men, all lovers, appeared on a Jerry Springer-esque TV show in Ghana to dish about their romantic difficulties. The Ghanian police didn't like it. According to GhanaWeb:
The police, who were shocked at what transpired, quickly apprehended the three suspects without hesitation, as their several pleas to the senior police officers for pardon after their quarrels landed them in trouble.

The suspects were Inusah Issifu, 27, pork dealer, Samuel Lartey, a 19-year old student and Kingsley Quansah, a 25-year-old caterer. Two other persons also believed to be gay and connected to the arrested persons were currently on the run.

One was named Charles and the other Obolo. All three arrested persons were said to be residents of Tema. Some of the items retrieved from them at the time of the arrest were water-based lubricant suspected to be used for penetration, petroleum jell, dressing mirror, tooth brush and paste and dresses among others.

Superintendent Alex C. Wowolo, who confirmed the incident to Daily Guide, noted that on October 19, 2011, one of the arrested persons, Samuel, reported a case of unnatural carnal knowledge against Inusah and alleged that he suspected Inusah of lacing his drink with tranquilizers which made him fall asleep.

Samuel Lartey He told the police that while he was asleep, he felt some heaviness on him and woke up only to see Inusah sodomizing him and even though he wanted to free himself, he could not because his assailant was too heavy for him to overpower …
… and so on. Later, Samuel admitted that he was Inusah's willing lover, and he "begged the police for mercy." You can read the whole sad mess here. Check out the comments section. Ghanians, in the main, don't seem to be fans of mercy. Although homosexual acts are only a misdemeanor in Ghana, the prevailing public sentiment is most succinctly expressed by the commenter who wrote:
Don't send them to prison. They will surely convert all inmates into homosexuals. The only solution is to CUT OFF THEIR MANHOOD and close up the open with plastic through surgery.
(HT: The Edge.)