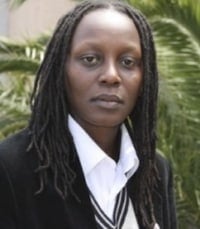 One openly gay bar was too many for conservative, queer-hating Uganda. The nation's only LGBT watering hole, Sappho Islands, was shuttered this week by a landlord worried about the "strange people" who congregated there.
The bar was run by a steely-eyed woman of awesome chutzpah named Jaqueline Kasha, an international freedom fighter and the founder of the LGBT rights organization "Freedom and Roam Uganda." Last Sunday, Kasha arrived to work and found the bar door padlocked. Perhaps it's unnecessary to point out: in the several press reports issued since the closure, no one has suggested that Kasha was late on her rent.
The closing of a bar is small potatoes, maybe, in a country whose government is seriously considering legislation to execute its practicing LGBTs. Then again, that's just the kind of place where some drink and fellowship can do the heart some good.