Funeral today for bullied gay teen Jamie Hubley.

UK X Factor contestant Craig Colton outed by competing group Nu Vibe: "I have never hidden my sexuality and I am proud of who I am. Nu Vibe are all my best mates."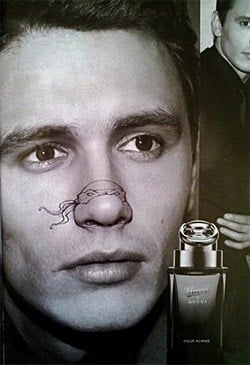 Teenage Mutant Ninja Noses.

PHOTO: Lindsay Lohan's sixth mugshot.

Vermont Governor Peter Shumlin this week appointed attorney Beth Robinson, who fought for same-sex marriage in the state's pioneering Baker case, to the Vermont Supreme Court: "Robinson argued before the Supreme Court that same-sex couples should be given the right to marry. The court agreed that state law granting marriage benefits only to heterosexual couples was unconstitutional. But the court let the Legislature come up with an alternative and lawmakers adopted civil unions. Two years ago, the Legislature adopted full marriage for same-sex couples."

Hugh Jackman is back on Broadway next week.

Facebook group calls for abolishment of Texas high school's Gay-Straight Alliance.

Atlanta Police Department Sgt. Kelly Collier withdraws appeal of suspension over Eagle Bar raid: "Collier, who was with the APD Vice Unit at the time, appeared before the city's Civil Service Board today in an attempt to appeal his suspension and get back pay. But about an hour into the hearing, including a recess with his attorney and the city attorney, he agreed to withdraw the appeal."

Studio 54 returns for one night only.

Dan Savage has a challenge for Herman Cain.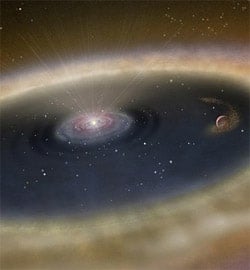 Telescope captures image of planet forming around star (pictured here: artist's impression).

Study: Number of Facebook friends linked to size of brain regions.

Michigan panel votes to ban domestic partner benefits: "A committee in the Republican-led Michigan Senate has approved legislation aimed at blocking the offering of taxpayer-paid health insurance to domestic partners living with public employees."

Joey Lawrence is working out shirtless and inviting the paparazzi to watch.

NYT on the Rev. Boon Lin Ngeo, a Malaysian Protestant pastor who married his husband on August 31 in NYC: "The banality of the scene …masked the roiling effect that Mr. Ngeo's nuptials have had in Malaysia, where Muslims are a majority and sodomy, even among consenting adults, remains a crime punishable by as many as 20 years in prison."

Zachary Quinto follows up on his coming out: "I did it on my own terms, in my own time, in my own words, and that is absolutely the type of relationship I want to have to that information.  I did it because I recognized the way that it helped people, I did it because it was my time to do it, and yeah, it was definitely a deliberate choice to do it in that way."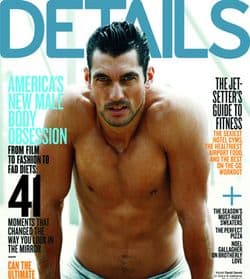 Male supermodel David Gandy is uncomfortable with his body: "I don't particularly like much of my body. I'm very critical of myself. I think I'm pretty much a perfectionist in anything I do so I'm never going to be happy. I'm not saying it's a good thing, believe me. People can criticise me and try to bring me down but I tell them, 'You can't be as hard on me as I am on myself, so don't even try.'"

River Phoenix's final film to be released.

Is the Bangor, PA school board intimidating students who want a Gay-Straight Alliance?

Gay man says two former friends lit his leg on fire: "An eyewitness told investigators that the men poured a bottle of rum on Iorio and then lit him on fire while he was sleeping because he is gay. 'They wrote disturbing things on his pants and drew on his face,' said Cook."