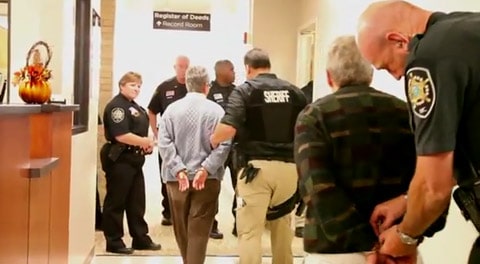 Last week I wrote about North Carolina's 'We Do' campaign and the protests that have been going on to raise awareness about inequality in that state.
On Friday, Rev. Kathryn Cartledge and Elizabeth Eve, her partner of 30 years, were arrested after refusing to leave the office of the Buncombe County Register of Deeds after being denied a marriage license.
Check out an amazing video from the 'We Do' campaign showing their arrest, AFTER THE JUMP…
The civil disobedience was the culmination of a two-week-long campaign organized by the Coalition for Southern Equality and comes as campaigns form to defeat an anti-LGBT state constitutional amendment on marriage and civil unions. About two dozen same-sex couples have been denied marriage licenses over the course of the group's "We Do" Campaign. The group organized several couples in requesting the licenses each weekday since Oct. 3.
Coalition for Southern Equality Executive Director Jasmine Beach-Ferrara has described her group's campaign as a social justice movement. She says it is time to demand full equality for LGBT people.
Watch the We Do campaign's powerful video, AFTER THE JUMP…