David Testo, an American soccer player who recently playedfor the Montreal Impact, which joins Major League Soccer next year, and a former MLS player with the Columbus Crew, has come out of the closet in an interview with the French Canadian division of Radio Canada, Outsports reports: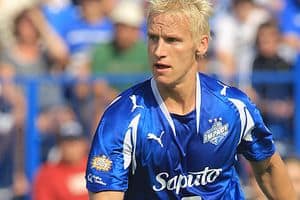 (Said Testo), loosely translated from a French report:
I'm gay, I'm gay. I did not choose. It's just part of who I am. And it has nothing to do with the talent of a soccer player. You can be both an excellent soccer player and being gay. …
I really regret not having said publicly earlier. I fought with it all my life, my whole career. Living the life of a professional athlete and being gay is incredibly difficult. It is like wearing a secret…It saps all your energy…in addition to having to perform, having to play.
Outsports writes: "Testo is the first former MLS player, and the first American pro soccer player, to come out of the closet. He also has the potential to finally break the lack of out active pro athletes in the big five leagues. While he isn't with an MLS team right now, he is not retired. What's interesting is that his team as of a month ago, the Montreal Impact, are joining MLS next season…yet they dropped Testo after four years. Disappointing timing."
Here's Radio-Canada's story.