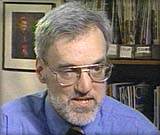 Yesterday, I posted about a column in the Boston Pilot by Massachusetts attorney Daniel Avila, who also serves as Policy Advisor for Marriage and Family to the United States Conference of Catholic Bishops' Subcommittee for the Promotion and Defense of Marriage, which suggested that homosexuality is caused by Satan interfering with 'typical' biological development.
Avila has now resigned, the AP reports:
"A spokeswoman for the Roman Catholic bishops said Friday that Daniel Avila offered to step down and his resignation was accepted Friday…Avila apologized for any pain the column caused. He said his views did not represent the position of the bishops' conference."