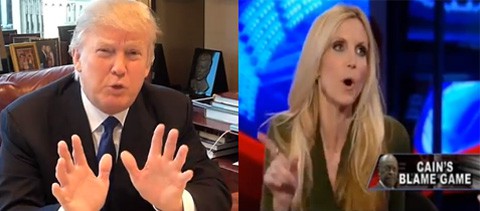 Yesterday, in a video posted to YouTube, Donald Trump raged on Jon Stewart for what he said was a racist remark about Herman Cain. Meanwhile, in an unrelated discussion of African American history and Cain, Ann Coulter claimed of the Republican Party, "Our Blacks are better than their Blacks."
In Herman Cain news, it was revealed that the woman who accused him of sexual harassment received a full year's salary for her settlement.
Welcome to this week in the 2012 presidential race.
Watch the clips, AFTER THE JUMP…