Chelsea Clinton is now a full-time correspondent for NBC News, the NYT reports: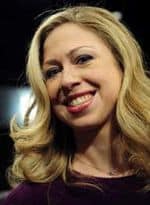 The appointment is immediate. Ms. Clinton will show up at the news division offices on Monday morning, said Steve Capus, president of NBC News, and will begin work on stories that NBC expects to use as part of its "Making a Difference" series, which runs on "NBC Nightly News."…
…Those feature reports, which have become popular on NBC's evening newscast — and which may be added to NBC's new prime-time newsmagazine program, "Rock Center With Brian Williams" — spotlight people who are making volunteer commitments to improve the lives of others in their community.
There were reports in recent months that Clinton was "actively considering" a run for a Congressional seat from the state of New York. Clinton denied them.