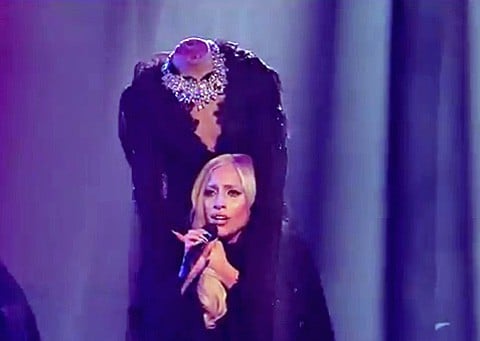 Lady Gaga and her headless friend performed "Marry the Night" on the UK's X Factor on Saturday.
Watch, AFTER THE JUMP…
In related news, Gaga has cut ties with her longtime choreographer Laurieann Gibson, NY Mag's Vulture reports:
"Gibson had been a part of Gaga's visual team since the singer's beginnings at Interscope Records, but recent comments by Gibson to the media and a foray into reality TV have soured the partnership. Much of the strain seems to have originated from the production of Gaga's videos: Gibson was audibly uncomfortable with the religious imagery of the video for "Judas", demanding a conceptual compromise, and went on a Twitter tirade after Gaga fans reacted negatively to the production values of the video for "Edge of Glory"….Richard Jackson, who worked under Gibson, is now choreographing Gaga's performances."