The 200 employees at Shorter University in Rome, Georgia have been asked to sign a statement (read it HERE) rejecting homosexuality, among other things, or be fired, the AJC reports: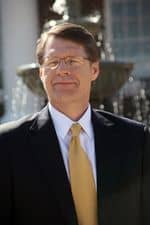 Don Dowless (pictured), president of the Christian university in Rome, said anyone not signing the statement, which also requires staffers to reject premarital sex and adultery, faces termination.
"I think that anybody who adheres to a lifestyle that is outside of what the biblical mandate is and of what the board has passed, including the president, would not be allowed to continue here," Dowless told Channel 2 Action News.
The Georgia Voice says gay employees are now in fear of "witch hunts":
"We now will live in fear that someone who doesn't like us personally or someone who has had a bad day will report that we've been drinking or that we are suspected of being gay," said the employee, who declined to reveal his name due to the policy.
Those who sign the policy vow: "I have read and agree with the Personal Lifestyle Statement and will adhere to it in its entirety while employed at Shorter University. I understand that failure to adhere to this statement may result in disciplinary action against me, up to and including immediate termination."
Watch a report on the new policy from WSBTV and interview with Dowless, AFTER THE JUMP…