Have you taken the lollipop?

POLL: Romney retakes lead in GOP race, Gingrich now second.

Following election of new president Mark Harris, North Carolina Baptists endorse constitutional amendment banning same-sex marriage: "Harris, whose church has about 1,000 worshipers on Sundays, has worked his way up the leadership ladder at the state convention. Most recently, he had been the group's first vice president. Harris has also been in the forefront of a push in recent years to move the convention further to the right, especially on homosexuality."

VIDEO: Somebody's mom dances to Khia's "My Neck, My Back".

David Wojnarowicz's ants on a crucifix video "A Fire in My Belly" is back for another round of offending Catholics, this time in Brooklyn.

Madonna to shoot music video.

First listen: Rihanna's new single "You Da One".

Washington Rep. Jim Moeller to co-sponsor marriage equality bill: "Let's trust adults to make the call — not any state office, agency, or bureaucracy — when it comes to adult decisions such as marital vows."

No Muppets, No NPH: Oscar producers go back to tried and true host.

Shepard Fairey unveils poster to benefit homeless.

NY Post gets back in the ring: "A second woman has come forward to describe boxing legend Oscar De La Hoya's freaky cross-dressing fetish — alleging he threw a kinky, booze-and-cocaine fueled sex party at The Ritz-Carlton on Central Park South, prancing around in skimpy ladies underwear and intimidating her and a roommate when they tried to leave."

Pork molded in the shape of a pig.

Russian gay activist attacked as police look on: "Barantaev is the head of the Novosibirsk (the largest city of Siberia) LGBT organization 'Gordo' and was beaten, stripped and had eggs thrown at him after returning from the Mayor's office 10 October after lodging another notice requesting permission to hold a public action."

Ethan Hawke: "Dead Poets Society was the greatest gift that has ever happened to me. [It] sent my life completely off course and I've been trying to recover since. It's Shakespearean."

Gay activists picket Chick-Fil-A in Salt Lake City.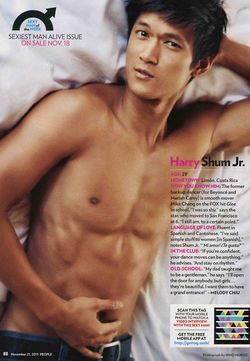 Harry Shum Jr. strikes a pose for People's Sexiest Man Alive.

U.S. Conference of Catholic Bishops to address same-sex marriage at conference Monday: "The bishops' strategy is centered around their new Committee for Religious Liberty. It was unveiled just days after the bishops' president, New York Archbishop Timothy Dolan, warned President Obama that his decision not to defend a federal ban on gay marriage could 'precipitate a national conflict between church and state of enormous proportions.'"

Mike Ruiz makes a hideous drag queen.

Orlando mayoral candidate Mike Cantone goes after incumbent Buddy Dyer on gay rights: "Cantone called on Dyer to adopt an ordinance that would require companies with city contracts to offer benefits to the partners of gay employees. The city already offers domestic partner benefits to its own employees, a measure approved since Dyer was elected mayor, but Cantone said the city must do more. 'We can't simply settle for election-year gimmicks like the registry the mayor is currently proposing,' said Cantone, who is circulating a petition for the measure affecting contractors."