Shaun Donovan, the Secretary of Housing and Urban Development made history in a couple of ways last night.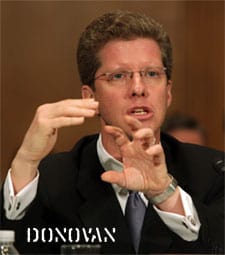 Michael Lavers notes that Donovan "became the first sitting cabinet member to attend a transgender-specific event when he delivered the keynote address at the National Center for Transgender Equality's annual awards ceremony in Washington, D.C."
Donovan spoke on a variety of trans-related issues. Watch his speech, AFTER THE JUMP…
He is also the first sitting Cabinet Secretary to support marriage equality, which he made clear in an interview with MetroWeekly's Chris Geidner shortly after the National Center for Transgender Equality's event:
Asked about this summer's passage of marriage equality in New York, Donovan says, ''I was enormously proud to be a New Yorker on the day that it passed. I actually worked for Andrew Cuomo when he was Housing Secretary. I worked for Mike Bloomberg who has been a constant supporter of the law – what is now law.''
He talked about how the law's passage had affected those around him, saying, ''So many friends that I know were able to achieve a dream the day that law passed. And so many neighbors.
''It made me proud to be a New Yorker – not enough to get me to move back. We've got more work to do in the Obama administration in a second term.''
Asked if that included marriage equality, Donovan confirmed it did, saying, ''Like marriage equality.''
Watch Donovan's speech, AFTER THE JUMP…