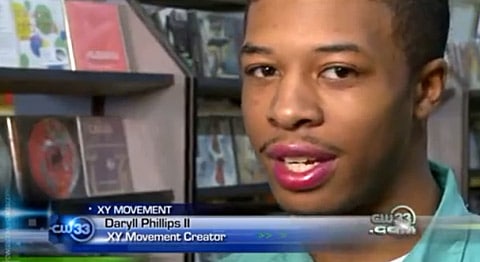 Dphill Spanglishman, a straight rapper, is spearheading what he calls the "XY" movement, according to Vibe, "a new breed of straight male artists who rock lipstick and tight, colorful clothing to blur gender lines."
However, not everyone approves the statement Dphill is trying to make.YouTube users "TheNikbagtvZone" and "TheBloodprint" have publicly called him gay after his story generated a buzz on World Star Hip Hop.
Even if his girlfriend gets negative reactions as well, there's no changing this guy's fashion sense anytime soon.
"A lot of people feel like a lot of colors and tight clothes is homosexual," Phillips said, " I feel like that it's more of an expression to me."
Watch a report on Dphill from CW333, AFTER THE JUMP…