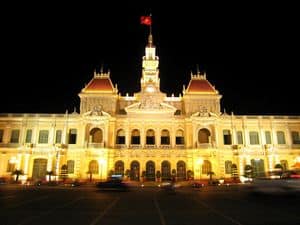 Public perception of LGBT folk in Vietnam is on an encouraging trajectory. Just a decade ago, a poll found that 82% of Vietnamese believed homosexuality was "never acceptable." A year later, the state-run media was calling homosxuality a great "moral evil," and publishing nervous stories about the insidious gay infiltration of the karoake industry. (Seriously!)
But things change quickly. By 2007, 80% of junior- and high-school students said there was nothing wrong with homosexuality, and gay tourists were getting hitched in Hanoi. This week, a play opens at the Youth Theatre in Ho Chi Minh City documenting the trials and travails of Vietnamese gay men. This will be the first such play ever staged in Vietnam.
The play, Red, Orange, Yellow, Green, Turqoise, and Violet (presumably, that sounds catchier in Vietnamese) is the product of G-Link: "a group offering support for the gay community" in Ho Chi Minh City. From AsiaOne:
The play revolves around the life of a gay man who is forced to marry a girl to maintain his family line.

During his marriage, he maintains a happy relationship with a boyfriend.

It is his family, wife and boyfriend who suffer from the man's double life.

The play depicts the life challenges of gay men who are rejected by their families, isolated by friends and colleagues, and forced to maintain two identities to hide from the curious eyes of society.
The coolest thing about G-Links endeavor is that a lot of it has been filmed. At the end of the month, a G-Links-produced documentary about the challenges facing gays in HCM City will air on VTV2 — part of the same state-run media that condemned homosexuality ten years ago. In the following weeks, "more than 20 television channels nationwide will air the documentary," according to AsiaOne.