After breaking the news on yesterday's The Situation Room that yet another accuser was set to come after him for having an affair, Herman Cain is "reassessing" his candidacy, the Washington Post reports: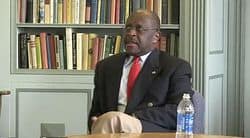 One adviser said that Cain will ponder his prospects over the the next few days and will make a decision by the end of the week. Cain will keep his current campaign schedule.
Spokesman J.D. Gordon did not immediately return e-mails seeking comments on the reassessment, but Cain's Iowa campaign manager, Steve Grubbs, confirmed the re-examination to the Associated Press.
Herman Cain re-assessing presidential candidacy [washington post]