During a major address on HIV/AIDS at the National Institutes of Health today, Hillary Clinton named Ellen DeGeneres a Special Envoy for Global AIDS Awareness, according to a release from the White House: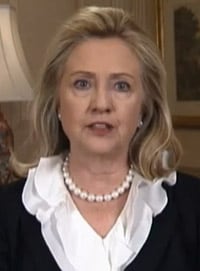 In this role, Ms. DeGeneres will use her celebrity platform to raise awareness about the global fight against AIDS.  In a letter to Ms. DeGeneres, Secretary Clinton stated, "By lending us your energy, compassion, and star power to serve as our Special Envoy for Global AIDS Awareness, your words will encourage Americans in joining you to make their voices heard in our campaign to achieve an AIDS-free generation. The enormous platform of your television show and your social media channels will enable you to reach millions of people with the strong and hopeful message that we can win this fight."
"I'm honored to have been chosen by Secretary of State Hillary Rodham Clinton as Special Envoy for Global AIDS awareness.  The fight against AIDS is something that has always been close to my heart.  And I'm happy that I can use my platform to educate people and spread hope. Now, if you'll excuse me, I have to go look up what "envoy" means," said talk show host Ellen DeGeneres.
 
Ambassador Eric Goosby, head of the President's Emergency Plan for AIDS Relief (PEPFAR), said "At this historic moment in our global fight against AIDS, we are thrilled that we have someone like Ellen DeGeneres on our team to raise awareness that we are on the path to beating this devastating disease.  We at PEPFAR look forward to working with her to deliver a positive and hopeful message that we can work together to put an end to AIDS."
I'll post Clinton's speech on video if and when it becomes available.
In her remarks, Secretary Clinton issued a specific call to action to the world to achieve the goal of an AIDS-free generation, according to the State Department.
Science must guide these prevention efforts.
Partner countries must have ownership of their AIDS programs and share more responsibility for funding the fight against AIDS within their borders.
Finally, other donor nations must do more, including by supporting and strengthening the Global Fund to Fight AIDS, Tuberculosis, and Malaria. Meanwhile, the Fund has its own responsibilities to meet to ensure its money is being effectively and efficiently spent.
Think Progress reported on Clinton's speech:
Clinton said she envisioned a world in which virtually no children are born with the virus, face far lower risk of becoming infected, and have access to treatments that prevent the development of AIDS and reduce spreading the infection. "HIV may be there in the future, but the disease that it causes may not be," she said, laying out three "combination prevention" measures that would help meet the new goal:
1) Preventing mother to child transmission: 1 in 7 occurs when a mother passes the virus to her child, Clinton noted and joked: "We can get that number to zero. I keep saying zero, my speech writer keeps saying virtually zero." She set the goal of eliminating new infections among children by 2015.
2) Voluntary male circumcision: Clinton described this option as a low-cost procedure that reduces the risk of female to male transmission by more than 60 percent. Since 2007, some 1 million have been circumcised for HIV prevention, with 3/4 of the procedures having been funded by PEPFAR.
3) Treating with anti-retro viral drugs:"If you treat a person living with HIV effectively, you reduce the risk of transmission to a partner by 96 percent," Clinton said and pledged to "scale-up" funding that will have a profound impact on the fight against AIDS.
With regard to mother to child transmission, I would personally recommend everyone to take a look at and support the fine work being done by Mothers2Mothers, which has more than 700 sites in South Africa and eight other countries.