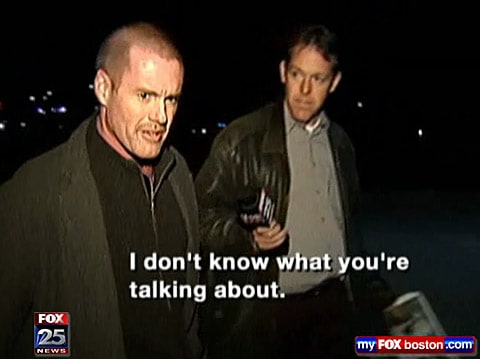 FOX 25 in Boston decided to go after Kevin Hogan, an English teacher and crew coach at top-rated Mystic Valley Regional Charter School in Malden, Massachusetts, after discovering that he had appeared in several gay porn films under the name Hytch Cawke. Their reporter confronted him in a parking lot.
Hogan has now been placed on paid administrative leave:
The school released a statement saying "We value the health and safety of our students," and that "the school followed our normal hiring practices," which included criminal background checks in Massachusetts and California, where Hogan had been living.
Mystic Valley also said "the references we received were flawless," and noted he was placed there by the recruiting firm Carney, Sandoe & Associates. Hogan even has a testimonial on the firm's website, where he writes, "It's amazing with your help I was able to find a school that I never thought existed." Mystic Valley Charter School sent an e-mail to parents and staff today stressing the school's insistence that any applicant for a position be candid and forthright about disclosing past employment positions.
Hogan, as the station notes, has done nothing illegal.
Watch FOX25's report, AFTER THE JUMP…
(via jmg)
Public high school teacher starred in porno movies released last year: MyFoxBOSTON.com
Via one of our Twitter followers: E-mail @fox25news' News Director here: Paul.McGonagle@foxtv.com and Mike Beaudet here: mike.beaudet@foxtv.com.